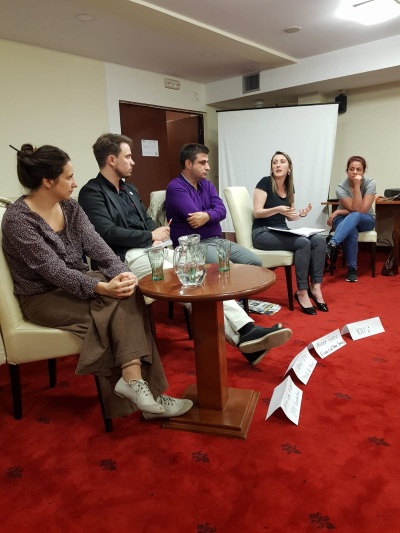 During the weekend, from 22nd to 24th of June, Network Seminar within the project "Making Europe Work" – Civic Academy for young disseminators from France, Germany and the Western Balkans was held in hotel Astra Garni in Sarajevo. Project implementation started in 2016 and its final phase will start in 2019.
Network Seminar was organized by project leaders Junge Europäische Föderalisten Deutschland, Europäische Akademie Otzenhausen, and Youth for Peace as local partner. The seminar gathered 13 participants from Bosnia and Herzegovina, France, Macedonia, Germany and Serbia. During the 3 days of work young people had the opportunity to talk about and plan future activities within the project, to express ideas and create drafts of their workshops that will arise as products of their involvement in the project. Participants also talked to the representatives of Embassy of Germany in Bosnia and Herzegovina about European vision and future of Bosnia and Herzegovina, but also the whole Western Balkans.
On Saturday, panel discussion "Culture of Remembrance: How do we deal with the past? Conflict resolution with the view on regional and European integration"was held. Guests on the discussion were Monja Šuta Hibert, on behalf of the TPO Foundation and Michele Parente, as representative of organization Forum ZfD, while the discussion moderator was Daniel Eror, as Youth for Peace representative. After the discussion, participants had a sightseeing of Sarajevo, where they visited some of the most important historical and political sights for Bosnia and Herzegovina.
Sunday morning was dedicated to the topic "Conflict resolution with the view on regional and European integration", which was delivered by Nicolas Moll. The rest of the day was used to talk about transnational workshop, that participants will develop further on the seminar in Otzenhausen in September this year. Emina Frljak participated on this meeting on the behalf of Youth for Peace.