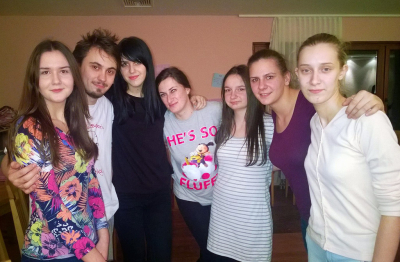 The Team on behalf of Youth for Peace is ready to leave for Ankara and take participation in the project Steps to Peace with Art. In cooperation with the Turkish organization ALESTA, ten young people from Bosnia and Herzegovina, together with their peers from Poland, Romania and Turkey will become a part of a project aimed at gathering and bringing together young people regardless of their race, religious affiliation, nationality or language. During seven days of the project, youth will develop their skills, express themselves creatively and learn about others through workshops and joint activities. The project is developed and promoted by and with young people coming from different countries aware of the importance of solidarity and cooperation, supported through the Erasmus+ Project.
NViolence can be encountered anywhere and young people face it every day. The main causes of violence are not knowing each other well enough, limited and unclear communication, prejudices and low level of tolerance. The violence that young people are facing has negative impact on the development of their personality. Such projects at the international level can help young people develop in a positive direction, learning from each other. Working together, in future, they can help their peers and society in general.
The preparatory phase of the project has been going on for several weeks, the youth from different parts of Bosnia and Herzegovina have meet each other and they are working on the preparation of materials and presentations to their colleagues from other countries. Good practices of non-violence and peace-keepers of our country, artists who worked in this direction, as well as various other cultural and traditional values will be presented by the Youth for Peace Team, through project activities in Ankara in late January.