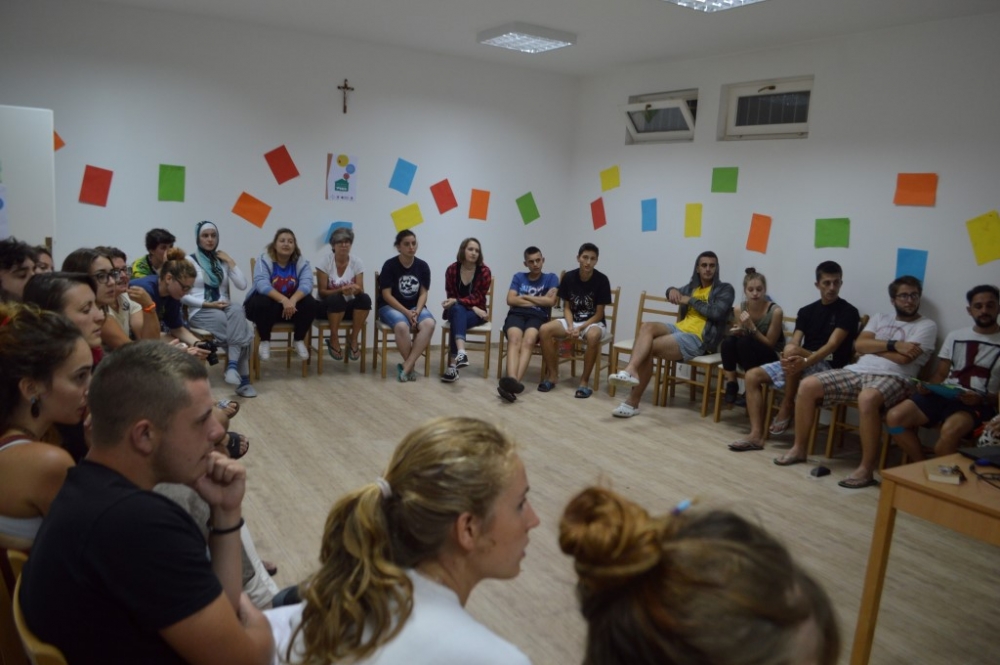 From August 21st until August 30th 2016, tenth Jubilee Summer School of Peace was held in Banja Luka, organized by Youth for Peace, in cooperation with Caritas Banja Luka, Caritas Italiana and Caritas Vittorio Veneto. The School gathered 25 participants from Italy and Bosnia and Herzegovina, as well as 10 Youth for Peace trainers.
During the first days of Summer School of Peace, participants had the opportunity to attend the workshop about assertive communication, active listening and interreligious dialogue, and to get to know something about religious traditions that exist in Bosnia and Herzegovina. So, they listened to about Islam, Islamic holidays and tasted Eid baklava, and during workshop about Judaism, they had chance to see Jewish wedding. Workshop about Orthodoxy gave them plenty information, Orthodox Slava (celebration) and wedding were showed as well. Guests from Italy prepared workshop about Catholicism. Besides workshops, participants visited Banja Luka and got to know city better thorough interactive game.
Second part of the School consisted of five volunteering actions, that offered young participants different activities and a chance to contribute with their work and commitment to community and people in need. So, participants, together with trainers, dug up foundation for a new house for family that lived in modest trailer; changed benches, painted fence and cleaned Trappist Cemetery Sveti Ivo (Saint John); painted and cleaned three houses of socially disadvantaged people.
After working actions, a trip and sightseeing of Jajce was organized and two days visit to Sarajevo. In Sarajevo, participants visited religious objects, scavenger hunt was organized in order for participants to get to know Sarajevo better and capture their adventure with photos. They also attended meeting with former detainees, where young people from Italy and Bosnia and Herzegovina could hear people's testimonies about senselessness and evilness of war in Bosnia and Herzegovina.
During evening programs, youth had opportunity to get to know each other better, to learn dance steps of Italian and Bosnian dances, and to participate in karaoke, where Italian participants were singing in BHS language and Bosnian participants were singing in Italian.