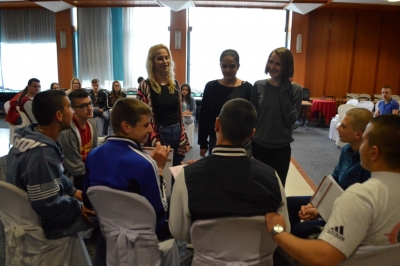 After a very successful seminar for high school students "Youth in BiH society", that was held in Sarajevo in May this year, we are continuing with our activities. Summer is reserved for few of them, including "School of Peace", a camp for young people from BiH and Italy. This year it will be 10th edition of "School of Peace" in Banja Luka, from August 22nd until August 31st. We decided to reward three participants from our seminar "Youth in BiH society" by giving them the opportunity to participate in this camp.
After the seminar, we asked our participants to write down their impressions about it. Soon, we got a lot of positive and encouraging impressions on our e-mail address, which have once more confirmed that our participants are extraordinary young people and that what we are doing with them is right and useful for them. First of all, we want to thank them for their written impressions and some of the most interesting you can read here and see for yourself. Three most interesting and most creative deserved direct invitation for Banja Luka. We discover the names of our winners on Thursday, July 14th 2016.
a)
Although we live in a divided country, full of prejudices, discrimination and passivity, the seminar gathered 38 young people, my peers, from the whole BiH. Those were 4 of days gathering, learning, getting to know others and different. It was amazing to be a part of the group that is open for all ideas, a group where every person has its own opinion and it is not afraid to express it. It was beautiful to get away from divisions that are woven into our lives and spend a couple of days with people who doesn't ask questions such as: "What somebody's religion is?", "What is his/her name?", "What does he/she do?", "How he/she declares himself/herself?" All of us had the same goal and it was to hang out, met new people, exchange opinions and to learn something new from every person. The trainers had important role in the seminar, they prepared great workshops, put a lot of effort for us to enjoy, showed us trust and became friends with us. Besides that we relaxed soon, entered dialog, shared our opinions, discussed, become active participants, and as a reward we made new friendships, got memories and the most precious reward - we got knowledge. This seminar encouraged us in the idea to become more active, more organized in our communities and to try to contribute coexistence in our societies. It was beautiful experience that I'll never forget, I'm grateful to the trainers, organization and colleagues who made those days interesting and useful. Hopefully we will meet each other again and we will enjoy in the company and in the workshops which will be prepared by excellent trainers. Regards from Žepče, that now has its own Youth for Peace members.